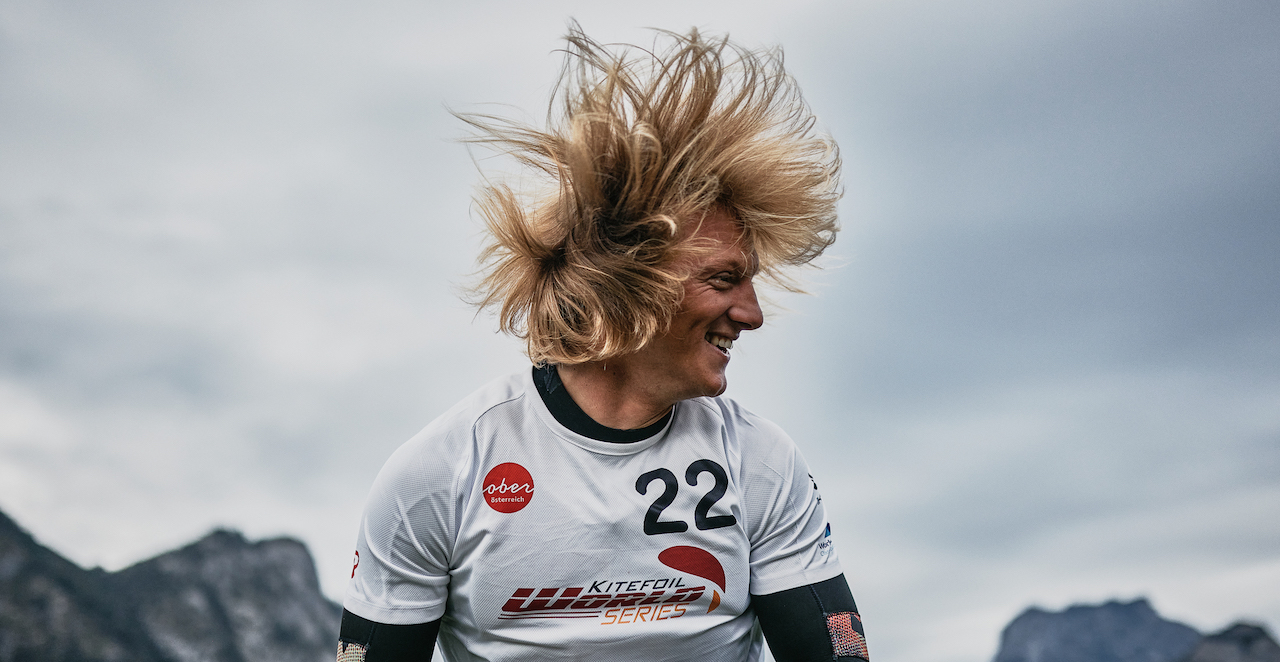 © IKA media / Robert Hajduk: Jannis Maus's hair: "My secret? Never wash it..."
No day is ever wasted in the kitefoiling community however, with some of the boys engaging in a hair-flicking contest in both the dry and the wet categories. While Germany's Jannis Maus was the champion of the dry flick, the coordinated team hair flick of Orangeman [aka Italian rider Simone Romano], along with his Polish sidekicks Jan Koszowski and Jakub Balewicz made them joint champions of the wet category.
The 15-year-old Karl Maeder is enjoying one of the best competitions of his kiting career, the Swiss rider sitting in 7th place just three points back from Maus who recently qualified Germany for a place at the Olympic Games next summer. Maeder had been hoping to race today and overtake Maus in the standings. The lack of racing meant he didn't get his opportunity, which means Maeder will go up against three other riders in 8th, 9th and 10th places from the opening series in a one-race repechage round.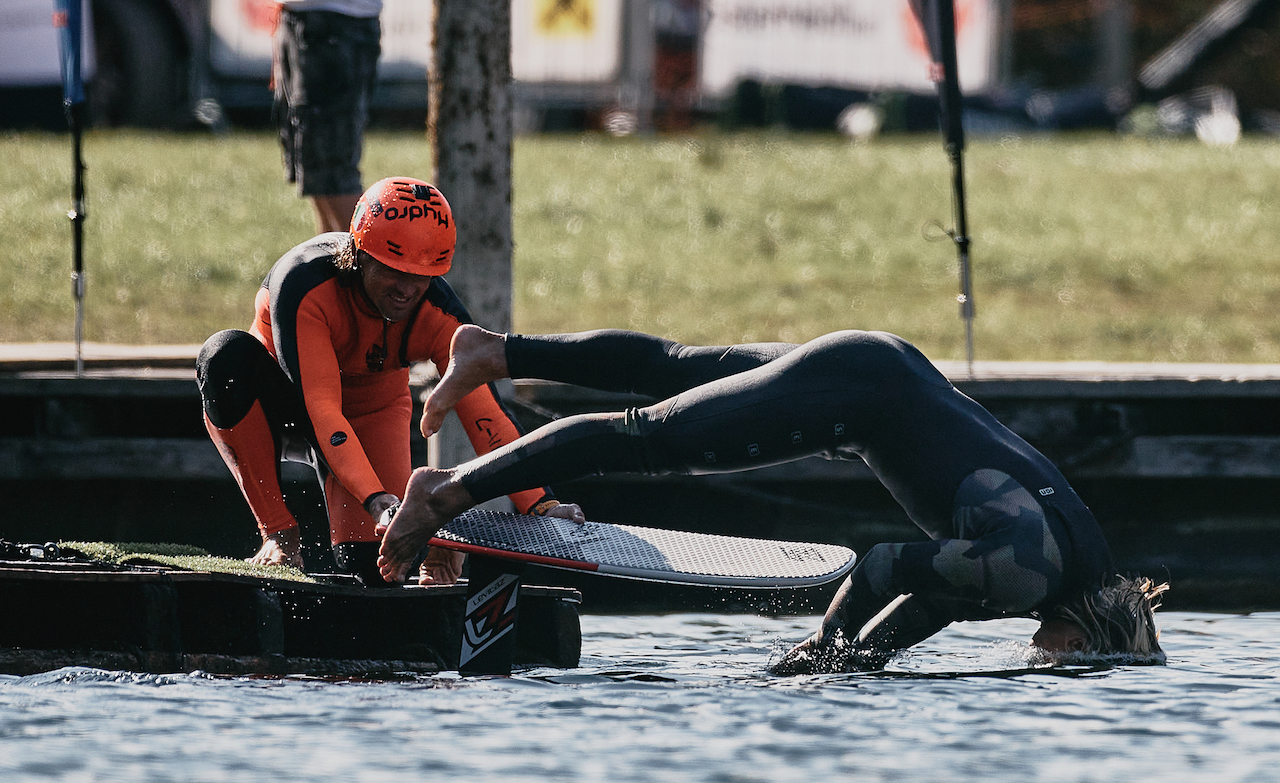 © IKA media / Robert Hajduk: But Jannis Maus DOES give his hair a wash during the pump foil contest
The repechage is part of a new experiment to trial an alternative format for the Medal Series. The four-rider Final remains unchanged, but how the riders progress to that Final is what has been streamlined. It's a more quick-fire elimination process which will demand the riders are at the top of their game if they're to join the top two who have already qualified their places in the four-rider final. That's Max Maeder [Karl's brother and reigning World Champion] who wears the yellow bib and takes through two wins into the Final, and second placed Flo Gruber from Germany who will wear the blue bib and starts the Final with one race win. Similarly in the women, Breiana Whitehead from Australia goes through as top seed while women's World Champion Lauriane Nolot goes through in second.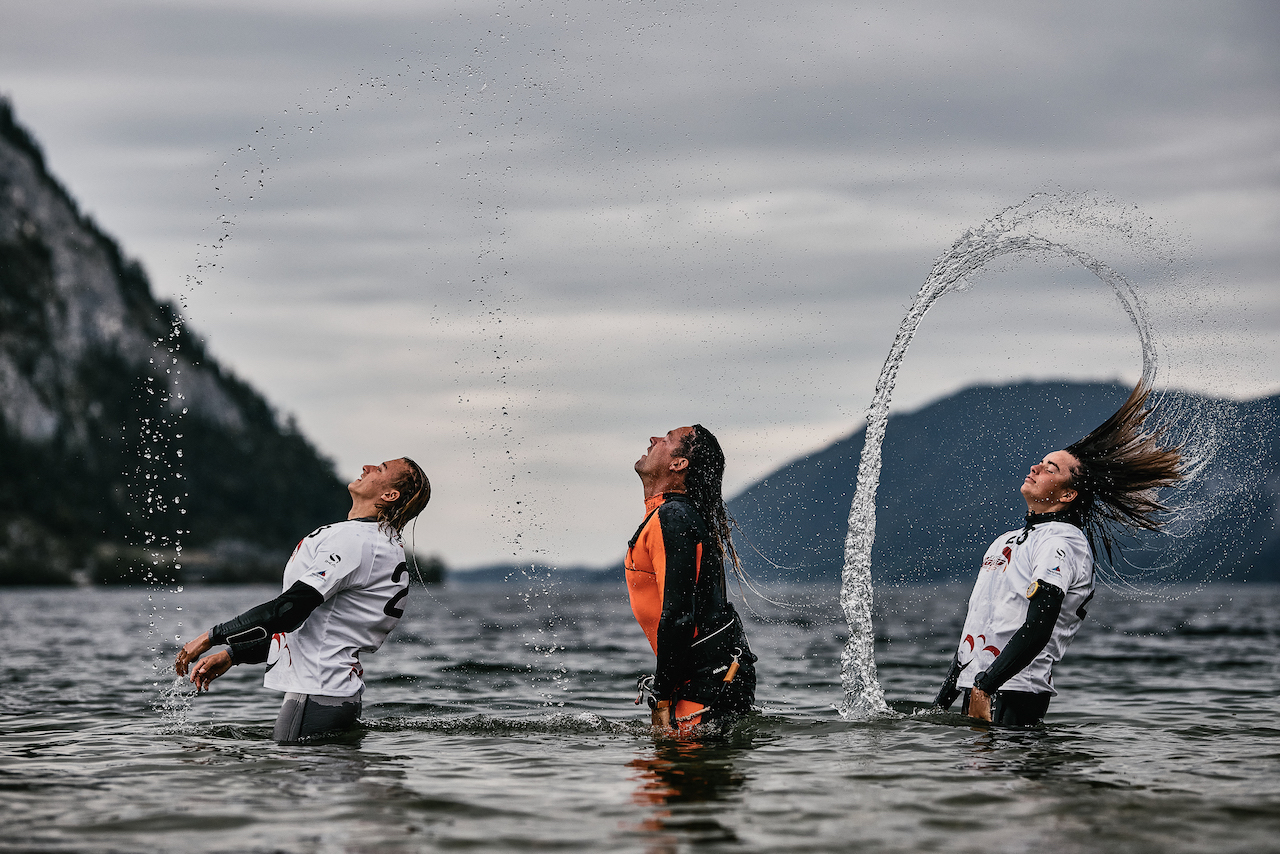 © IKA media / Orangeman and the Polish Dream Team win the wet hair contest
Nolot revealed today that she has two chickens whose names, Nugget and Brochette, suggest they might one day end up on the barbecue. But Nolot insists that will never happen.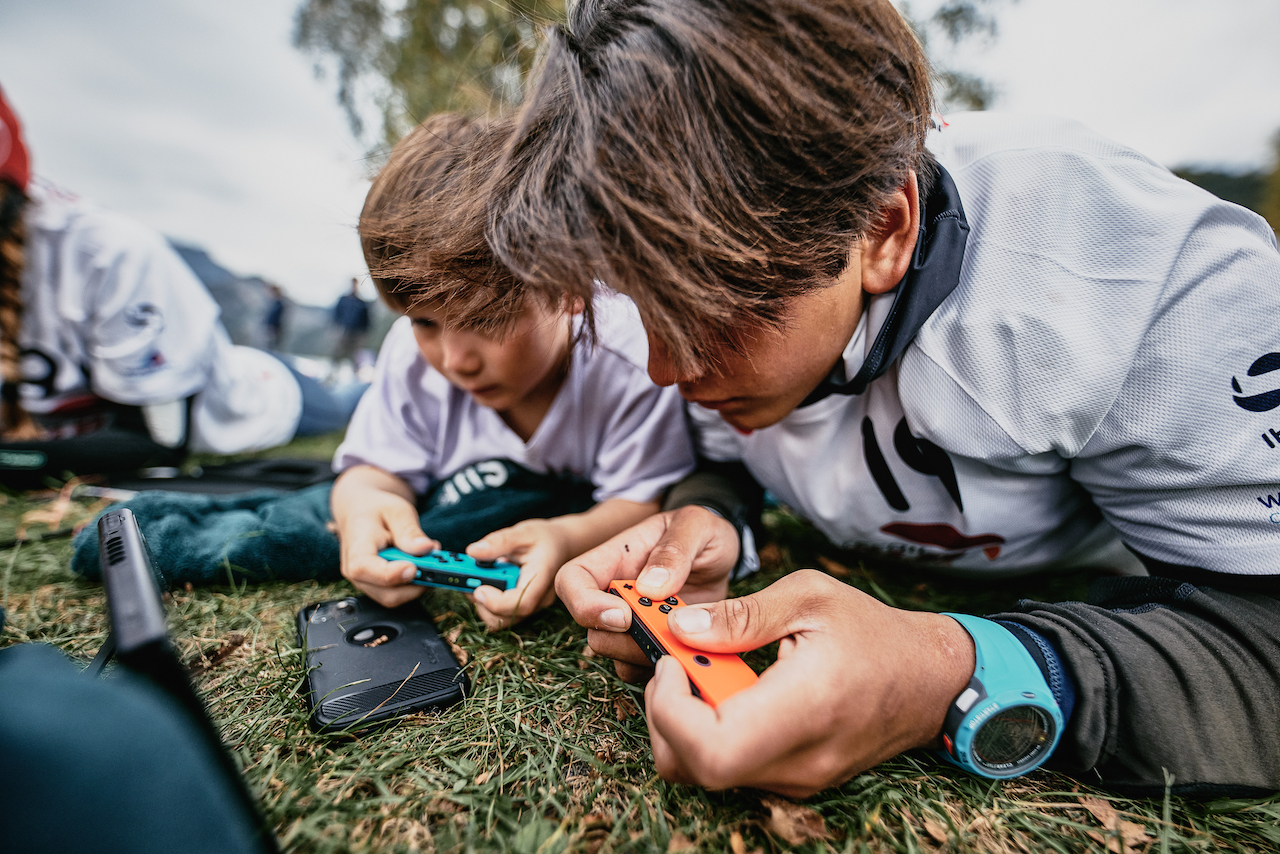 © IKA media / Robert Hajduk: Karl Maeder hones his competitive instincts against little brother VJ
The Medal Series is scheduled to start at midday on Sunday, and the racing will be livestreamed online for fans to cheer their favourites on to victory in Traunsee.
RESULTS MEN
| | | | |
| --- | --- | --- | --- |
| 1. | Maximilian Maeder | SGP | 16.0 |
| 2. | Flo Gruber | GER | 16.0 |
| 3. | Martin Dolenc | CRO | 17.0 |
RESULTS WOMEN

| | | | |
| --- | --- | --- | --- |
| 1. | Breiana Whitehead | AUS | 68.0 |
| 2. | Lauriane Nolot | FRA | 70.0 |
| 3. | Alina Kornelli | AUT | 95.0 |