Welcome to the world's fastest fleet !
The KiteFoil World Series is the sports premium event series with events all around the world and a strong focus on media production and prize money level. The winner of the globe-trotting tour is crowned IKA KiteFoil World Champion each year.
Mazella Clinches Second World Series Title
Reigning four-time Formula Kite world champion Daniela Moroz (USA) added the KiteFoil World Series title to her growing haul to trophies, though remarkably this was one that had eluded her until now.
Read More
The Biggest Names in the Sport
Who will be the next to add his name to the perpetual trophy ?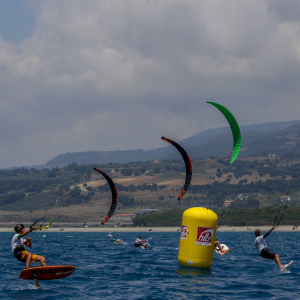 Last Event



KiteFoil World Series Act 1



Gizzeria 2021
Italy



Event Winners Full Results

| | | |
| --- | --- | --- |
| | Name | NAT |
| | Denis Taradin | |
| | Daniela Moroz | |
2021 KiteFoil World Series Standings

Act 1

Act 2

Act 3

Act 4


Act 5

TOTAL
1
D. Taradin
300 (1)
300
2
A. Mazella
297 (2)
297
3
T. Vodisek
294 (3)
294
4
T. de Ramecourt
291 (4)
291
5
M. Nocher
288 (5)
288
6
N. Parlier
285 (6)
285
7
C. Bainbridge
282 (7)
282
8
M. Calbucci
279 (8)
279
9
M. Dolenc
276 (9)
276
10
B. Gomez
273 (10)
273

Act 1

Act 2

Act 3

Act 4


Act 5

TOTAL
1
Chubanga
1011
1011
2
Levitaz
816
816
3
Flying Sardine
375
375
4
Duotone
258
258
5
Volo
171
171
6
Airush
168
168
7
Mikes Lab
129
129
8
Z Foil
96
96
9
SABFoil
90
90

Act 1

Act 2

Act 3

Act 4


Act 5

TOTAL
1
Ozone
936
936
2
Flysurfer
849
849
3
F-One
843
843
4
Flymaax
558
558
5
Peter Lynn
12
12
Act 1


Act 2


Act 3


Act 4


Act 5


Gizzeria

Traunsee

Cagliari

Jandia

Maspalomas














07 Jul - 11 Jul 2021


15 Sep - 19 Sep 2021

06 Oct - 10 Oct 2021

17 Nov - 21 Nov 2021


24 Nov

- 28 Nov 2021




300 Points

300 Points

500 Points

400 Points

400 Points

15.000 EUR


15.000 EUR


25.000 EUR


15.000 EUR


15.000 EUR


REGISTER
REGISTER

awaiting NoR

awaiting NoR


awaiting NoR